Specimen Collection
Coagulation Tube Collection
Coagulation Quick Reference Sheet
Coagulation Specimen Collection
Specimens for coagulation should be collected in 3.2% Sodium Citrate light blue top tubes. Be careful to not only notice the volume of blood in each tube as described below, but the number of tubes that may be required for the suggested test(s).
+ Specimens should be kept as Whole Blood and at Room Temperature if testing is assured to be performed within 4 hours of collection.
+ Do Not put the whole blood specimens on ice.
+ If testing is not going to be performed within 4 hours of collection, then please follow the Double Spin Procedure in order to obtain Frozen Plasma Aliquots. It is very important to provide quality specimens in order to receive quality results!
Minimizing Preanalytical Variables for Coagulation Tests
+ Assemble needle in holder; always fully seat and hold a citrate tube on the back end of the needle while filling.
+ Allow the tube to fill until the vacuum is exhausted and blood flow ceases.
+ Tubes should fill between ±10% of the stated draw volume of the tube (CLSI guideline, Dec. 2003, Doc. H1-A5, Vol. 23, No. 33).
+ Minimum fill indicator represents the minimum volume of blood required for appropriate analysis. A discard tube (without additives) must be used if only a citrate tube is to be drawn using a winged blood collection set. It is important to remove the air from the blood collection set to ensure the proper blood volume is obtained in the tube.
+ Do not fill tubes from other tubes or combine two partially filled citrate tubes.
+ If the specimen is drawn with a syringe, do not fill the BD Vacutainer8 Citrate Tube beyond the level as illustrated on the reverse side of this guide. Allow the tube to draw the blood from the syringe using a BD Vacutainer Blood Transfer Device if available.
+ Do not force blood into tube. Immediately after draw, gently invert tube 3 to 4 times. Do not shake.
BD Vacutainer ® Plus Plastic Citrate Tube Draw Volume Guide
| Cat# | Size | Draw | Citrate |
| --- | --- | --- | --- |
| 363083 | 13 x 75 mm | 2.7 mL | 3.2% (0.109M) |
| 363080 | 13 x 75 mm | 1.8 mL | 3.2% (0.109M) |
Sufficient volume achieved if blood drawn falls above minimum fill indicator.
For blood transfer, do not fill above illustrated dashed maximum line.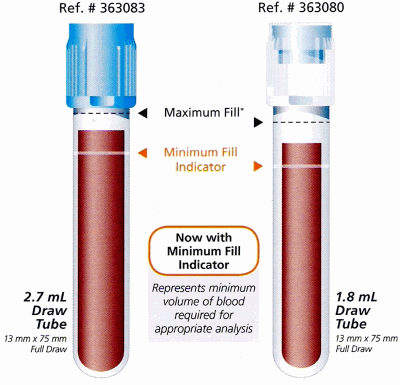 Note: The quantity of blood drawn into evacuated tubes varies with altitude, ambient temperature, barometric pressure, tube age, venous pressure and filling technique. *According to CLSI guideline, Dec. 2003, Doc. H1-A5, Vol. 23, No. 33.

BD, BD Logo and BD Vacutainer" are trademarks of Becton, Dickinson and Company. © 2007 BD Patents Pending 10/07 VS5944-3