Coronavirus Testing

Virus Statistics
Regional Medical Laboratory continues to be a valuable leader at the forefront of the Coronavirus pandemic, having conducted more than 131,000 SARS-CoV-2 PCR tests over the last 4 months to meet the COVID-19 testing needs of the communities we serve.
We are conducting this testing 24x7, across 3 robust testing platforms (6 instruments) with the capacity to perform 2200 tests per day. We are currently providing SARS-COV-2 PCR results within 24 hours of the receipt of the specimen at the testing laboratory.
We are also pleased to announce that we have secured additional testing capacity and a 7th SARS-CoV-2 PCR testing instrument will be added to our central laboratory by early September. The additional instrument will increase our daily capacity from 2200 to 3100 tests per day.
We are committed to provisioning this much needed testing to the communities we serve as we partner with you to insure the health of our population. We will continue to increase our capacity and source supplies to meet the demand as a trusted partner in the fight against the pandemic.
---
Qualitative testing for IgG Nucleocapsid antibodies to the novel Coronavirus SARS-CoV-2 associated with COVID-19 infection is available at the RML core lab.
Detection of IgG Nucleocapsid antibodies to the SARS-CoV-2 Virus Test Number: (6901550)
The SARS-CoV-2 virus may stimulate the production of IgG antibodies, thus detection of IgG antibodies is indicative of exposure to the SARS-CoV-2 virus. Antibody detection may occur as early as 3 days after symptom onset, while the majority of patients will have detectable IgG antibodies 8-14 days after the onset of symptoms. At the time of 14 days or greater the sensitivity of the antibody test is 100% and specificity is 99.63%.
At present, the detection of IgG antibodies to the virus only indicates that a person has been exposed to the virus and has mounted an immune response, but it does not confirm protective immunity. Ongoing research and clinical trials are addressing whether antibody production results in protective immunity, and if so, which antibodies may confer immunity. Antibody tests by themselves are of limited value in the immediate diagnosis of active COVID-19 infection. Molecular (PCR) tests are currently the only tests recommended for the diagnosis of COVID-19 infection. False negatives and false positives may occur with any test, thus laboratory results must always be interpreted considering the clinical presentation and history of the patient. If the clinical scenario does not correlate with the results of this test, follow-up testing with a molecular method (PCR) to detect virus particles within a respiratory specimen should be considered to rule out active infection. The SARS-CoV-2 IgG antibody assay may be useful in the identification of patients who have recovered from a SARS-CoV-2 infection who may be candidates to donate convalescent plasma to be used for treatment of those who are seriously ill from the virus.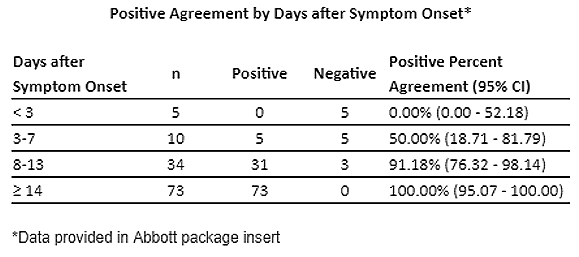 IgG Fact Sheet for Providers - Abbott Laboratories Inc.
IgG Fact Sheet for Patients - Abbott Laboratories Inc.
Qualitative testing for IgG Spike protein antibodies to the novel Coronavirus SARS-CoV-2 is now available at the RML core lab.
Detection of IgG Spike Protein antibodies to the SARS-CoV-2 Virus Test Number: (6907251)
RML has initiated two assays for the semi-quantitative detection of IgG antibodies to the COVID 19 nucleocapsid and a second to the COVID 19 spike protein. The IgG antibodies to the nucleocapsid can only come about following a SARS-CoV-2 infection. IgG antibodies to the spike protein will follow an infection and/or a vaccination with a spike initiating vaccine. The assays will be valuable in discerning as to whether the patient has or has not had a COVID 19 infection or a vaccination. The semi-quantitative values will be important to determine the degree of antibody activity in seroconversion as well as following the status of the levels of antibody activity over time. They will be available in two formats. One is the COVID 19 IgG anti-spike and the other is COVID 19 IgG anti-nucleocapsid. The results will be reported as a relative value (i.e. positive or negative) as well as a semi-quantitative value.
IgG Spike Fact Sheet for Providers - Abbott Laboratories Inc.
IgG Spike Fact Sheet for Patients - Abbott Laboratories Inc.
---
PCR Testing for the novel Coronavirus (SARS-CoV-2/COVID-19)
Direct testing for the presence of Coronavirus SARS-CoV-2 is currently being performed at the RML core lab utilizing three molecular platforms that have received FDA Emergency Use Authorization to detect SARS-CoV2 viral nucleic acid material within respiratory specimens. All specimens are being tested as quickly as possible, and the majority of specimens are resulted within 1-2 days after receipt in lab. For elective surgery patients, specimen collection should occur at least 72 hours prior to scheduled surgery.
The CDC has recently updated collection guidelines and has removed the preference of nasopharyngeal specimens for testing. Please see link below for additional information.
https://www.cdc.gov/coronavirus/2019-ncov/lab/guidelines-clinical-specimens.html
For questions regarding pending tests, please send an email to RML Client Services. We have a team monitoring this email for rapid escalation of issues. Alternatively, you may call client services if there is a pressing issue (918-744-2500 or x18842 or x18843). Please do not call the technical sections of the laboratory with testing requests or questions, our staff is not available to answer phone calls at this time. Due to the need to quickly test the most critical patient populations, specimens are prioritized based upon clinical necessity as indicated by the patient's clinician and established guidelines. All testing requires a physician order.
COVID-19: Required Ask On Order Entry Questions
Collection instructions:
Specimen sites: Nasopharyngeal (NP), Oropharyngeal (OP), Deep Nasal/Mid-turbinate (MT) or Anterior Nares (AN) swab. If collecting MT or AN specimens , both nares should be generously sampled with a single swab and placed in a single tube to maximize virus particle collection. NP washes/aspirates and bronchial washings or bronchoalveolar lavage (BAL) specimens collected with a minimal volume of sterile saline (2 mL or less) are also acceptable.
Swab types: Any swab of appropriate size and configuration with a synthetic or rayon tip and plastic shaft can be used.

Do NOT submit swabs with calcium alginate tips or swabs with wood shafts.


(a) APTIMA Multitest Swab kit: OP, MT or AN site collections (swab too large for NP site)
- Transport at room temperature or refrigerated; Do not freeze; Stability up to 6 days at 2-8'C.
(b) All other swab types: Suitable for all specimen sites listed, depending on size of swab
- Refrigerate specimens if they will be received in lab within 72 hours of collection.
If there will be delayed transport, freeze specimen at -20'C.
Media types: VTM, UTM, M6, or sterile saline or Aptima Multitest Swab kit media, (ESwab collection kits should no longer be used for specimen collection for the SARS COV2 PCR assay. The small volume of this collection device can cause technical issues with PCR and precludes any repeat or additional testing. Contact your RML representative for alternate collection devices.)
Swabs must be placed in 1-3 mL of liquid media, broken or cut at the top of the tube, and tubes tightly capped. Specimen tubes should be labeled with two unique patient identifiers. Place the tube containing the swab in a biohazard bag and submit with paper requisition or place electronic order.
Please keep specimen refrigerated until pick-up.
Causes for rejection: Swabs with calcium alginate tips; swabs with wooden shafts; refrigerated samples greater than 72 hours old; room temperature swabs greater than 24 hours old; improperly labeled; grossly contaminated; broken or leaking tube; collection with substances inhibitory to PCR including heparin, hemoglobin, ethanol, EDTA concentrations >0.01M; unacceptable transport media.
Couriers will transport to Regional Medical Core Laboratory. Call RML at 918-744-2232 to request specimen pickup if not routinely scheduled at your location.
COVID-19 testing order is: SARS-CoV-2 by PCR, SARS-CoV2 (6907557).
SARS-CoV-2 PCR Collection Kits
If testing for respiratory viruses other than SARS-CoV2 is required, evaluation for both may be performed from a single swab if there is sufficient media. The incidence of other respiratory viruses has decreased significantly in recent weeks. Rare cases of RSV and metapneumovirus have been identified during the month of April in our lab, and there have been no cases of Influenza A or B, Parainfluenza virus or Adenovirus by PCR testing. However, If both tests are desired, order both the SARS-CoV-2 by PCR (6907557) and Mini VRESP PCR (6907567). RML will perform the SARS-CoV-2 test first, followed by the mini VRESP panel if specimen volume is sufficient. If only the SARS-CoV2 test is truly needed, please do not order the mini VRESP panel. All orders for the viral respiratory panel (VRESP PCR) will be converted to an abbreviated virus panel, the Mini VRESP PCR (6907567) with testing limited to influenza A and B, RSV and metapneumovirus. This is required to optimally utilize testing resources and personnel during this pandemic. If testing of other viruses such as Adenovirus or Parainfluenza viruses 1-3 is required, please order these tests separately (order names ADENOV PCR or PARA FLU P).
Due to CDC guidelines, no viral cultures of respiratory specimens will be performed.
Order the mini VRESP panel by PCR if testing for respiratory viruses is necessary.
FDA EUA Patient and Health Care Providers Fact Sheets:
Aptima® SARS-CoV-2 Assay Fact Sheet for Providers - Hologic, Inc.
Aptima® SARS-CoV-2 Assay Fact Sheet for Patients - Hologic, Inc.
RealTime SARS-CoV-2 Assay Fact Sheet for Providers - Abbott Molecular, Inc.
RealTime SARS-CoV-2 Assay Fact Sheet for Patients - Abbott Molecular, Inc.
Simplexa™ COVID-19 Direct assay Fact Sheet for Providers - DiaSorin Molecular LLC.
Simplexa™ COVID-19 Direct assay Fact Sheet for Patients - DiaSorin Molecular LLC.
Alinity m SARS-CoV-2 assay Fact Sheet for Providers - Abbott Molecular Inc.
Alinity m SARS-CoV-2 assay Fact Sheet for Patients - Abbott Molecular Inc.
---
Useful Links and Guidelines for Clinicians, Laboratorians, Infection Preventionists, and Emergency Management Professionals:
Oklahoma State Department of Health Coronavirus Disease Information
Kansas State Department of Health COVID-19 Resource Center
Wisconsin State Department of Health Services COVID-19 Information


COVID-19-CDC-guidelines

CDC Guidlines on Testing for Current Infection (Viral Test)
CDC Current Guidance for Symptom Based Strategy
Current CDC Guidelines for Specimen Collection Updated
Current CDC COVID-19 Situation Summary
CDC Clinical and Epidemiologic Criteria for COVID-19
CDC Biosafety Guidelines
CDC UN 3773 Biological Substance, Category B Shipping and Packaging Training
COVID-19 - Navigating the Uncharted [Article by Drs. Fauci (NIH-NIAID), Lane (NIH-NIAID), and Redfield(CDC)]


RML Online Supply Ordering

Click here for the RML Supply Order Form
RML COVID-19 Requisitions Updated
Notification of Updated Pricing and Coding for 2019 Novel Coronavirus (COVID-19)
If you have any questions or need additional information contact:
Dr. Gerald Miller at 918-744-2553 x15543 or email: gmiller@ascension.org; or contact
Kendra Thompson at 918-744-3131 x18355 or email Kendra.thompson@ascension.org.
---